I remember when I was younger, waking up Christmas morning, and racing to the tree. Packages danced and twinkled with different colored paper and trimmings, and more! I'm sure you have some of the same memories.
This year was a bit "different" around the PerfectShare offices. We had an unexpected visitor that was better than a puppy, Nintendo or a car.
We left out our organic cookies and soy milk (who knows if Santa is lactose intolerant or not!). But we only expected crumbs in the morning.
Instead, we got "the big guy" himself!
"Good morning and Merry Christmas!" he shouted with a hardy and joyous bass in his voice as he sat in my now-engulfed office chair.
I was hushed. I looked around and could tell my jaw was on the floor, eyes widened and body still. In fact, I actually pinched myself just to make sure I wasn't involved, unknowningly, in a single person Mannequin Challenge starring myself.
"Santa?" it finally fell from my mouth. And then…I lost it…
"Yes, it's me. I have an issue that you might be able to help with!" he exclaimed as he motioned me over the computer.
As I sat down, I noticed that he actually had multiple messaging apps, email apps and even a version of FTP that I had never seen before; it was called elFTP. And no, I didn't ask about that program.
"We are having issues with sharing data. For the longest time we used scrolls and parchment. We then switched to cards, and then onto FTP and email. However, that is a mess now," he said with a grimace.
"Instead we need a better way to handle the rush, as well as R & D during our off-season."
"Ok…PERFECTSHARE!" I shouted before I knew it.
"But there is a problem," he continued. "I can't let anyone know, from the manufacturers, to the shippers, from the toy heads to the actual R & D team that we aren't using an in-house system. We need branded file sharing and a branded version of collaboration. Can you help?"
This request needed more time to explain. And so, we scheduled a walk-through of a PerfectShare account for the 28th.
And with that upcoming Wednesday, my first demo to the great Santa Claus (or as we found out later, he likes to be called "the big guy") began…
Your brand should be front and center
Something every business, not just Santa, needs is a branded solution when using a piece of software. With thousands, if not millions, of external users to the North Pole empire entering and exiting his operations at various levels, this might seem like an issue.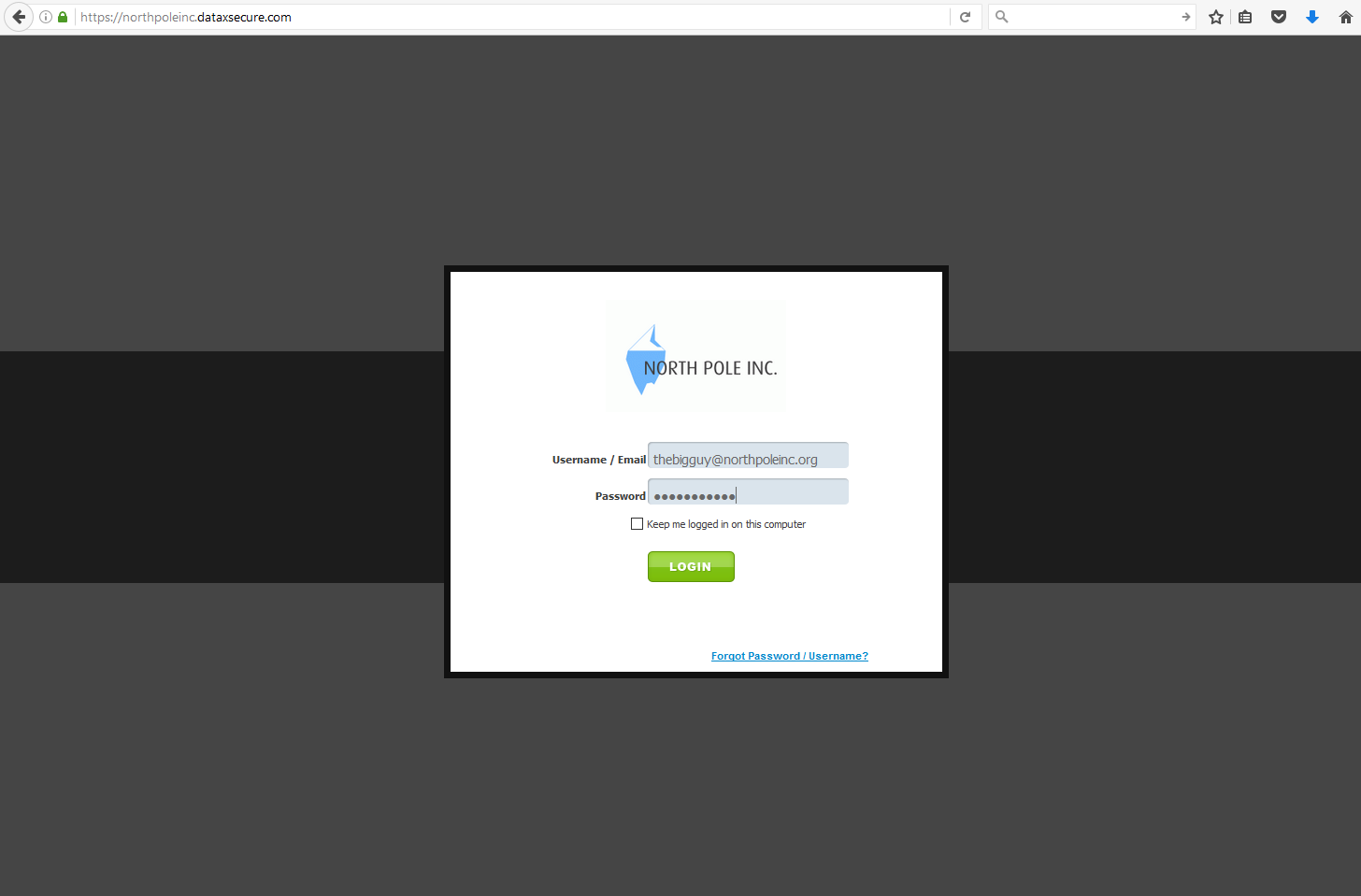 However, we showed him that every account is a separate unit in PerfectShare. So, for North Pole Inc., Santa wanted to see his brand's name EVERYWHERE. After logging into the site, he was very pleased.
Not only was the URL branded to his company, but so was the logo.
"That first look, my friends, that is when someone knows that they should believe in the real deal, or if they have a shopping mall Santa," he stated with a very pleased agreeing smile.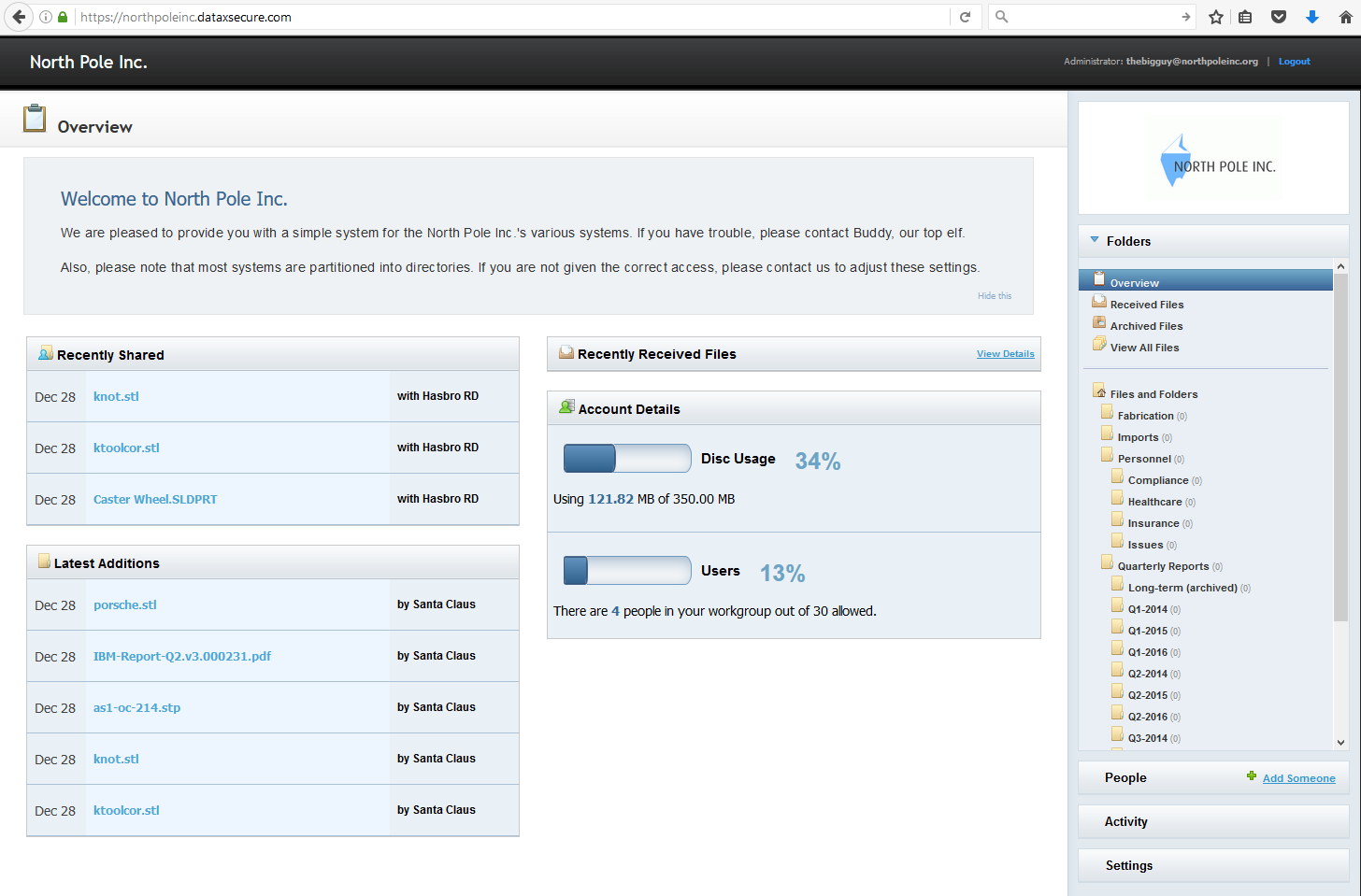 When he saw the actual overview page of his account, he knew that all users would quickly see that this was the North Pole's account.
The logo was clear, so were the headings. As well, he could also greet customers and users with a custom branded message on login.
"The only mention of a brand is mine? No PerfectShare logo or links?" he asked.
"None. Your brand is front and center, like it should be."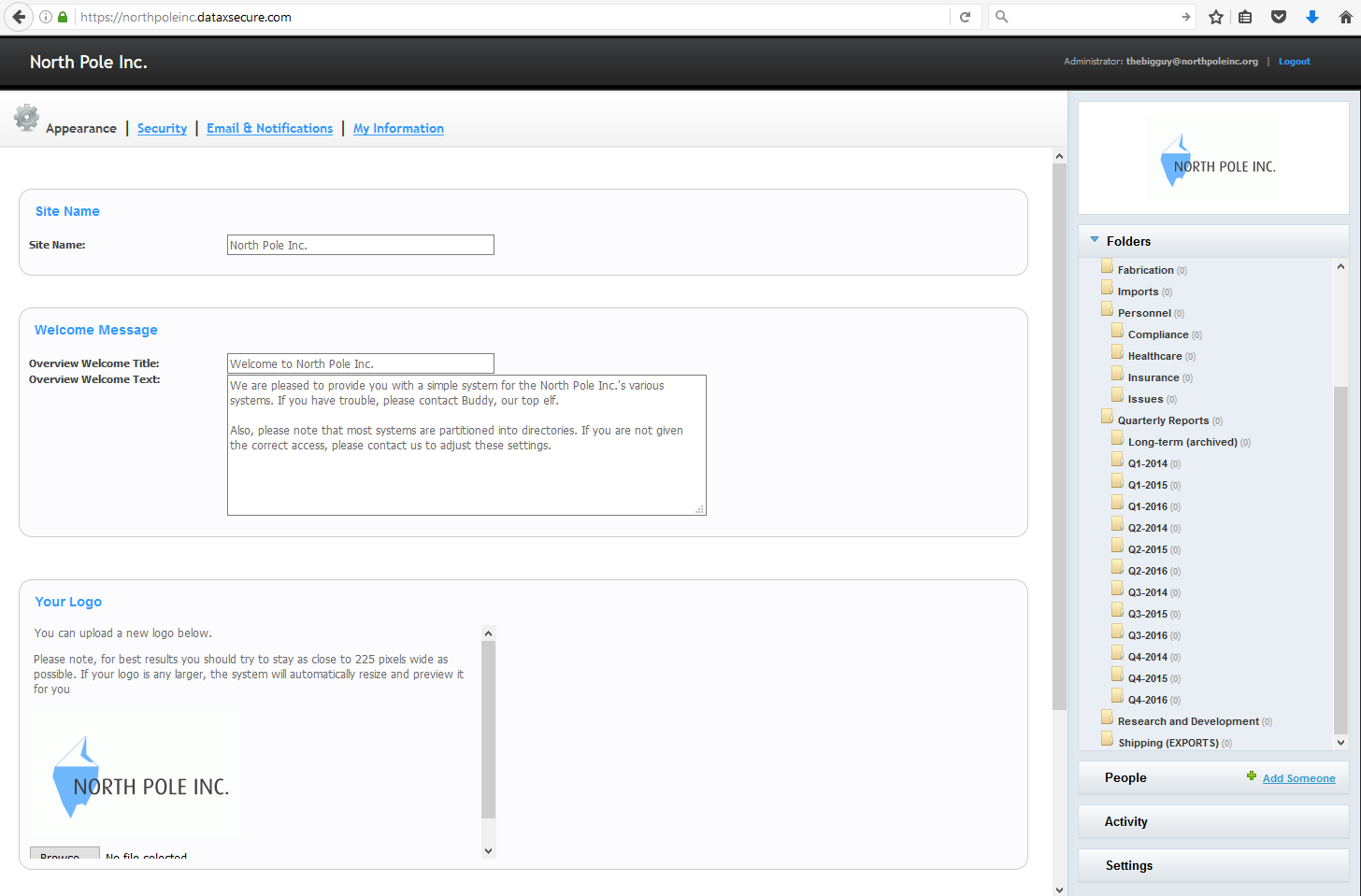 Not every part of the organization needs to know the rest
"One issue I have is in separating one aspect of the business from another. For instance, the reindeer only need to review scheduling and weather estimates. However, my assembly elves need to see plans and feedback from Q&A, as well as uploading their production numbers. Also, and this is big, I do not want Mattel's R&D to see what Hasbro is working on for us. How can I separate these?"
Santa made some great points here.
To partition your business means to make it even more efficient – and secure. In a way, this is also protecting your brand from competitors seeing any of your relationships.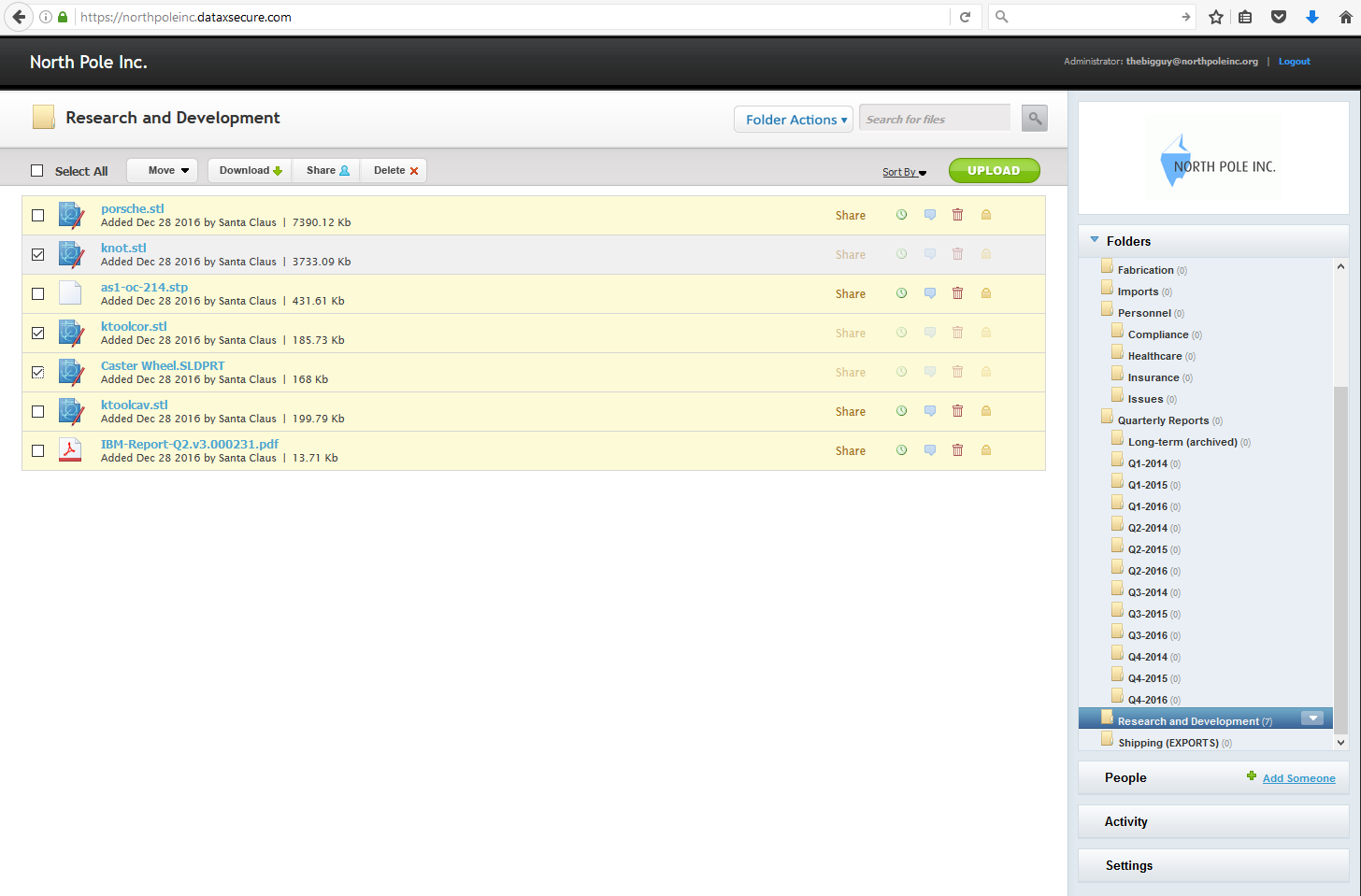 We started by entering the Research and Development folder in Santa's account. We then selected some files that Hasbro has been working with the big guy to complete.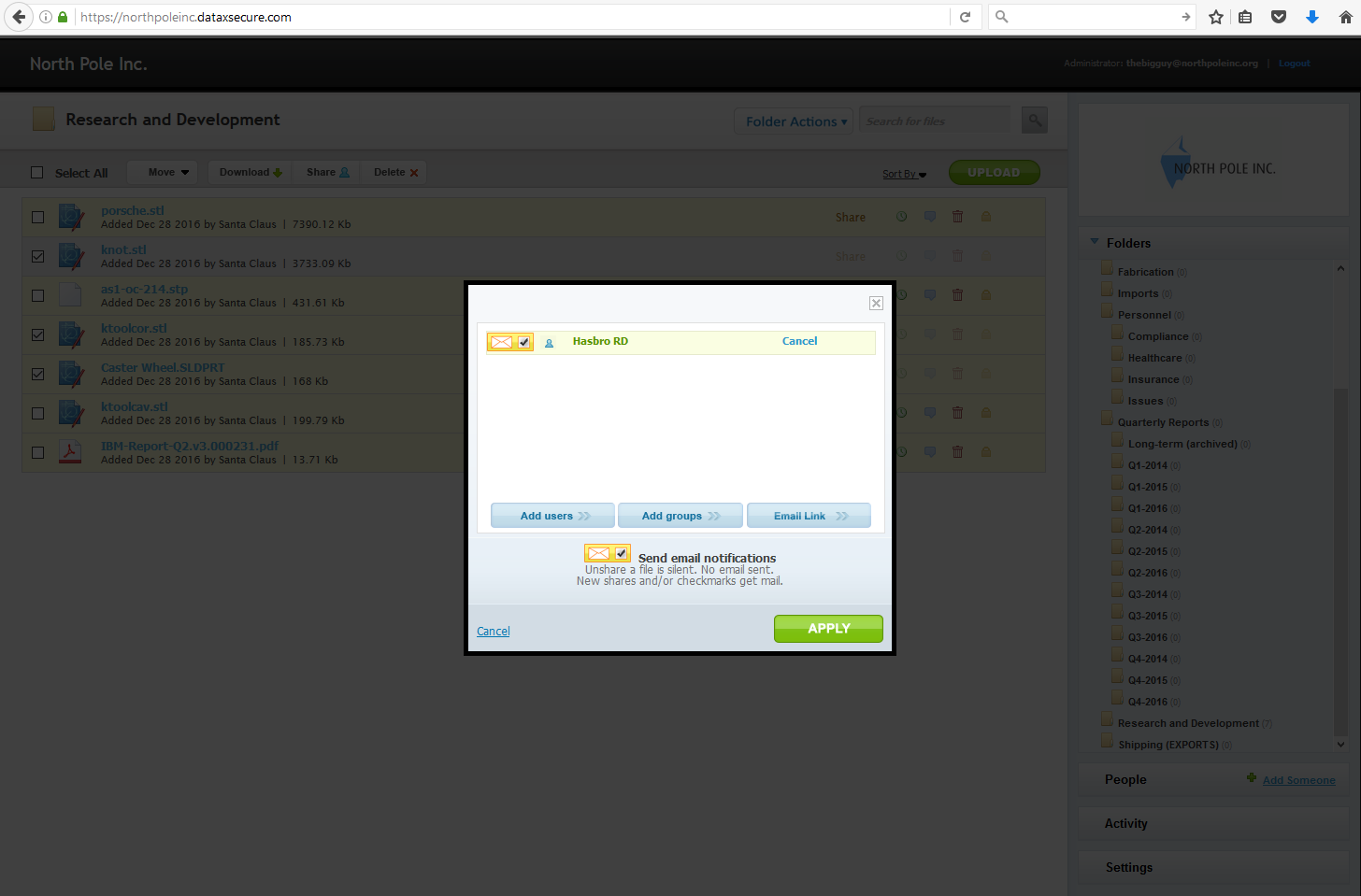 We then completed the share, and sent a notification to that end-user concerning the data share.
All of this happened over a secure connection (HTTPS), and within a matter of seconds; very simple.
"But, can't Mattel then see these files?"
"Not at all. When you share files with users, only the users that you select will see that data. And, when you do share those files, your brand is who sent the files and your brand is who is housing them; your brand is the one that your users see."
We also explained to Santa that he and the elves could further that partitioning between users by making specific groups. This would allow him to place users into groups for faster sharing selection.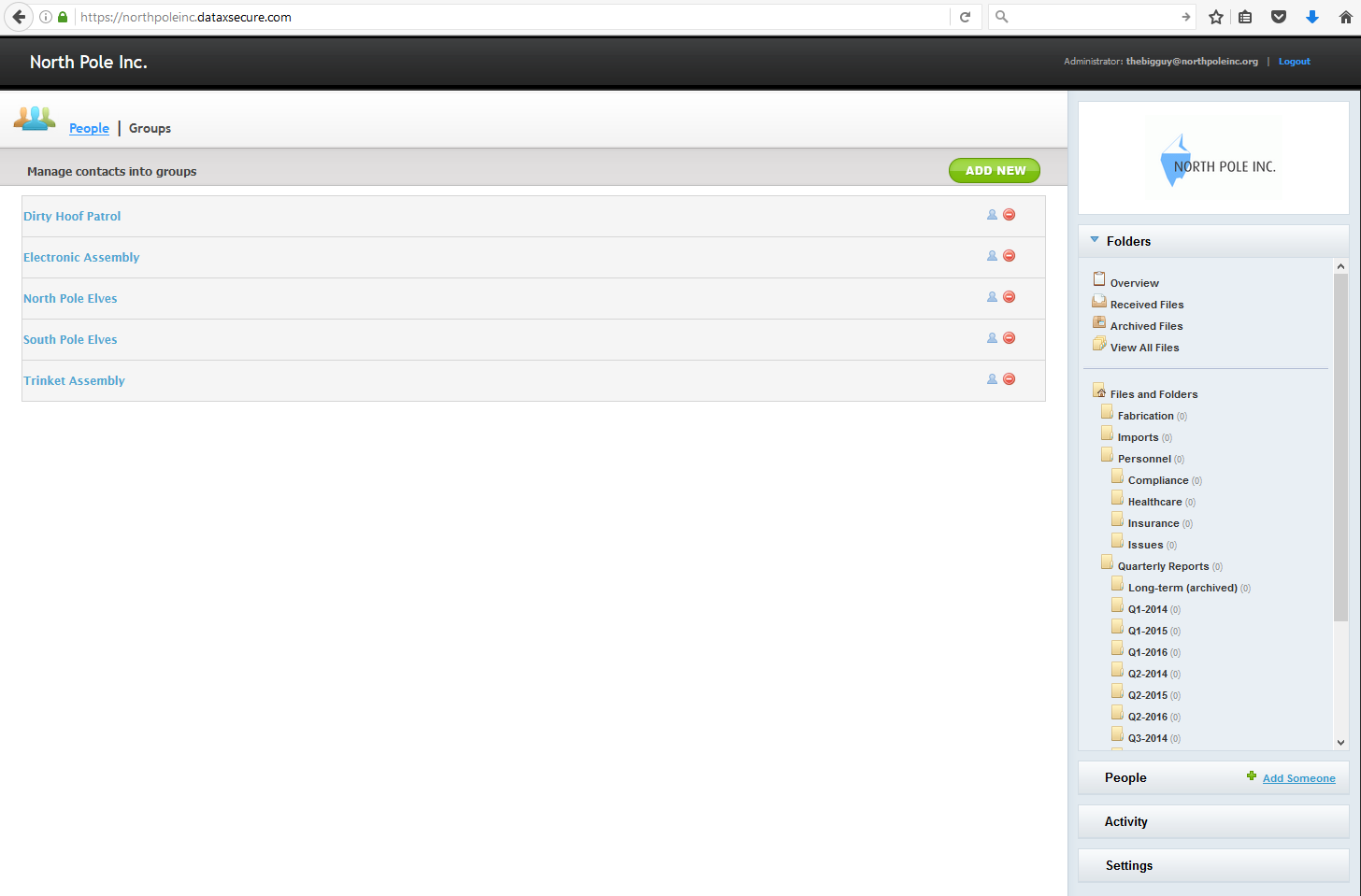 You should protect your brand, securing data, people and your business
Santa also made another point about some issues he has had. Apparently some elves, when confronted with duties like toy-testing, reindeer poop cleanup and more, had occasionally stolen data, sold it to a toy company and then went to work with NESTLÉ® TOLL HOUSE®, making cookies and crackers.
"We need a simple method to fully secure our brand for whenever someone comes into the site."
"Simple!" I exclaimed.
"PerfectShare allows you to create and use an NDA (non-disclosure agreement)," I continued.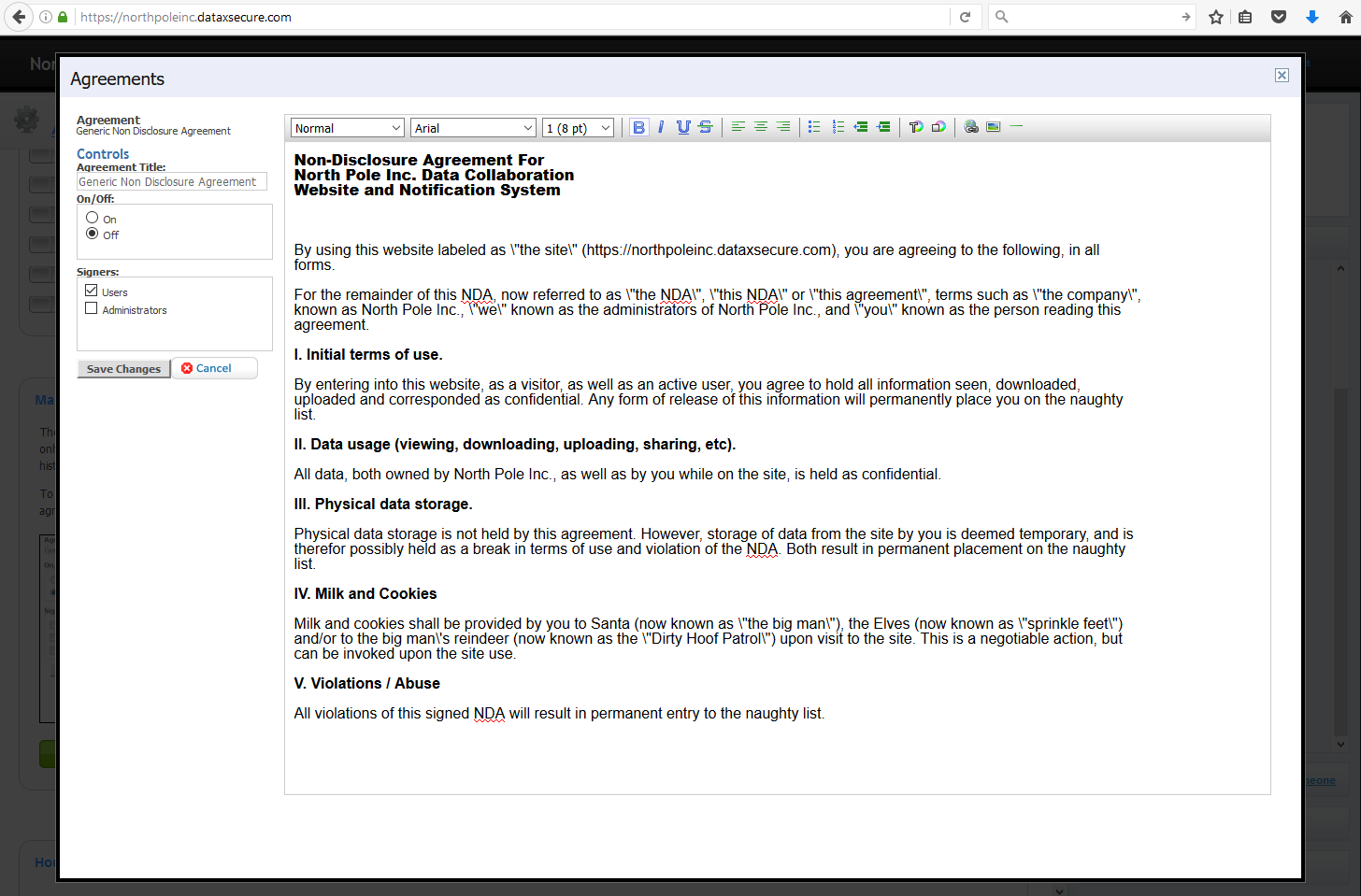 "Anyone entering your site after logging in, must sign this digitally. Once they do, you can receive notice."
We had, of course, created a fast version of an NDA for Santa. He understood, and also found it funny that the repercussions of breaking the NDA were very similar to what he had in mind.
Our present to you…
Because of our interaction with the big guy, we've decided to give you something awesome. We want you to give PerfectShare a try, just like Santa did. Get started below.
We've put together a guide on how to incorporate PerfectShare with your brand. See immediate brand recognition for your customers to your brand.
Summary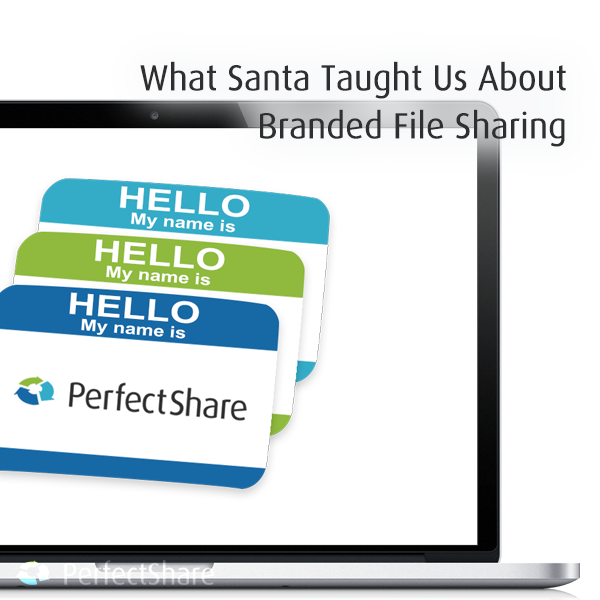 Article Name
What Santa Taught Us About Custom Branded File Sharing
Description
Custom, branded file sharing isn't about simply slapping a watermark or logo on everything. PerfectShare's file sharing and branding helps your brand.
Author
Publisher Name
Publisher Logo